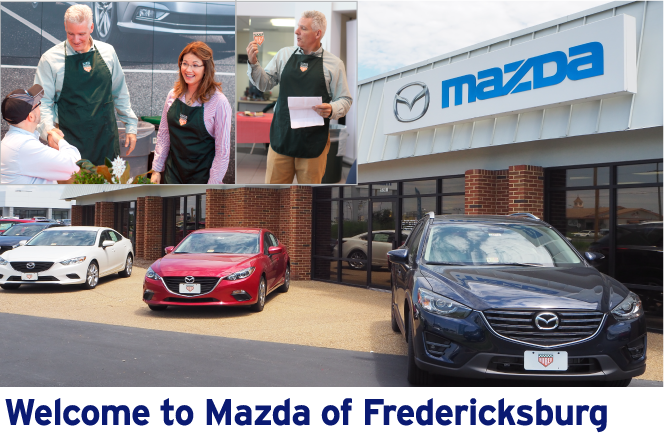 Mazda of Fredericksburg is a Huber Motor Cars company.
Huber Motor Cars  is a Virginia automotive group centrally located between Washington, D.C. and Richmond. Our group includes Mercedes-Benz of Fredericksburg and Volvo Cars Fredericksburg, located at 1000 Noble Way in the city of Fredericksburg, and Volkswagen of Fredericksburg and Mazda of Fredericksburg, located on U.S. 1 near Interstate 95 in Spotsylvania County. The Huber line also includes Huber Collision Center at 2303 1/2 Jefferson Davis Highway in Fredericksburg.
Huber Motor Cars operates on a set of principles that demands integrity in every transaction and incorporates giving back to the community we serve. Our goals are to gain our guests' trust by always seeking to do what is fair and right, to build our team members by empowering them to succeed, and to strive for excellence in everything we do.
It is those principles, derived from the company's Biblical foundation, that led owner Clay Huber to implement a negotiation-free sales process in 2016 for both new and pre-owned vehicles at all of his dealerships.
Known as Fast Fair Simple Guaranteed, this process is the signature element of "Car Buying The Huber Way." Fast Fair Simple Guaranteed eliminates the stress of traditional car buying through transparent pricing and focusing on finding guests the vehicle that fits their needs and budget, both of which dramatically cut the time involved. Clay was among the first dealers in the nation to launch negotiation-free sales for his luxury brands and felt it was essential for his business plan, which seeks to honor God by pursuing excellence and practicing integrity while serving our guests.
Clay Huber, a 25-year-veteran of the automobile business, is the owner of Huber Motor Cars of Fredericksburg, Va., which was launched on September 11, 2015. The Virginia Tech graduate and mechanical engineer is a self-professed "gearhead" who enjoys every kind of wheeled transportation - from his road and mountain bikes to his motorcycles and orange Porsche. He also savors every opportunity to take to the skies as a pilot.
A native of Fairfax County, Clay grew up racing and upgrading classic muscle cars and motorcycles and then sold cars while attending college. He started his professional life at an engineering firm in Richmond before deciding in 1990 to pursue his passion for automobiles full-time alongside his stepfather, Ron Rosner. Clay graduated from the NADA dealership academy before joining the staff full-time at the Toyota dealership on U.S. 1 in Fredericksburg. He gives thanks for the privilege he had to learn and grow the family-owned automotive business. Together with his family and team of dedicated employees, he saw the group grow to 10 companies and more than 600 employees, earning the title of Ward's Auto Mega Dealer as one of the top 100 dealerships in the country. Clay finished his run with the Rosner Automotive Group in 2015 as president and chief executive officer.
Launching Huber Motor Cars is the fulfillment of Clay's long-held dream to run his own group of companies. Clay's priorities are his faith, family and fun, all of which inform his approach to life and business. Clay and his wife, Gail, have three sons - two in college and the third in high school.
At Huber Motor Cars, we're driven to a Higher Standard.
Mazda of Fredericksburg, formerly Rosner Mazda, offers a wide selection of new and pre-owned vehicles. We can help you find the sedan, sports car, hybrid, crossover, SUV, truck, or minivan that best suits you.  We also have financial experts who can help you secure the loan or lease payment that fits your budget. We can work with all types of financial histories - good credit, bad credit, no credit - and we can help you get a low-interest car loan  even if you have an existing loan.
Our Mazda of Fredericksburg Service Center can help keep your vehicle running as smoothly as the day you drove it off the lot. Whether you need a routine oil change or major engine repair, we can get the job done and get you back on the road and we'll do it as quickly as possible.
You can start the process here on our website. You can browse our new and pre-owned inventories and find out what your trade-in could be worth. You can use our online car loan calculator to estimate your payment and then fill out our online finance application to pre-qualify. Plus, at our Service Center page you can schedule your service appointment or inquire about a specific part for your car. And, if you ever have a question about anything we offer, do not hesitate to call us at (540) 684-3296 or visit our showroom at 5208 Jefferson Davis Highway, Fredericksburg, VA 22408. At Mazda of Fredericksburg, we are honored by your business and look forward to serving you.